Monday, October 24th, 2011
A new law in Germany has tightened the rules on the types of tyres that you can use in winter.
Until now, the law only said that you had to have "suitable" tyres for the road conditions, but did not actually specify that you had to have winter tyres on in winter.  Indeed, many people with good tread on their summer tyres continued to use them throughout the winter, and would probably argue that they were suitable as long as the main roads were clear.
The trouble was, that unless they caused an accident, the police were as good as powerless to argue against them, so the politicians were under pressure to amend the law to get things clarified.
Unfortunately, they made quite a mess of it.
For a start, they only agreed on it at the end of November, giving many people only a few days to change the tyres on their cars before it came into effect.
It would not have been so bad, if it wasn't for the fact that the first snow was already on the ground.  At that is still part of the problem – the new rules still only apply for particular road conditions, ie. when there is snow, ice, slush, black ice, and a number of other variants of frozen water on the ground.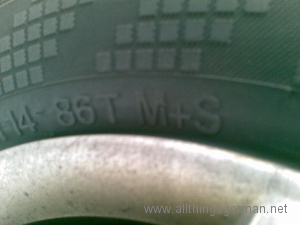 The M+S symbol