Saturday, September 24th, 2011
I'm not sure if it's just the summer heat, but it seems to me that people's attention for simple rules of the road has gone out of the window lately.
It all started with the bicycles.  We've noticed this year a lack of respect on the part of cyclists for red lights.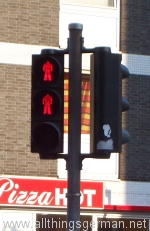 It doesn't matter what kind of red light: pedestrian crossings, crossroads, or even cycle paths.  They just ride straight through them.  It's a common occurance on the Hohemarkstraße in Oberursel, where I see at least one cyclist every week go through at red light – usually whilst pedestrians are crossing.
But at crossings it can be even worst – they veer off to the right to use the pedestrian crossing across the side road and avoid the red traffic light that way.  Of course, the pedestrian crossing may also be at red, but that doesn't seem to worry them.
Then there are the pedestrians who just walk across the main road without looking, forcing drivers to brake hard.  And I don't mean taking a run at it, I mean leisurely walking across.